Not sure if your text message channel is actually working? If your conversational SMS marketing efforts don't seem to be paying off, you may be guilty of making any of these three major mistakes.
1. Text messaging without consent
Do you remember how you felt the last time you received a random marketing text message that you didn't recall signing up for? It likely didn't result in warm and fuzzy feelings towards the perpetrating brand. Not only do you want to avoid this negative experience with your own customers, but SMS marketing without consent also violates TCPA guidelines.
Luckily, there are strategies that help make opting in to text clear, easy to follow, and compliant. For example, Voxie's service offering provides consumers the ability to opt in through a QR code or link. By scanning a QR code in-store or clicking a link on your website, your customers will be automatically directed to a newly drafted text message where they can simply hit "Send" to opt in. This process ensures compliance through the double opt-in method of both scanning or clicking and sending written consent.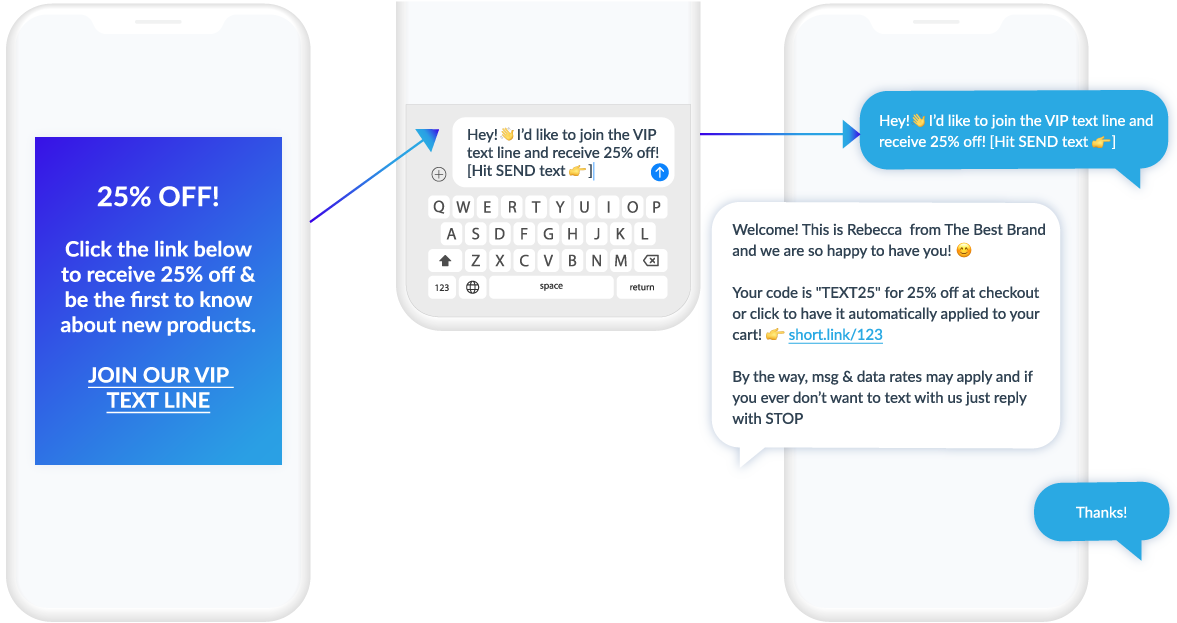 Remember: Conversational SMS marketing implies a two-way conversation by definition. Text message conversations, like any other two-way interaction, should always begin with obtaining consent.
2. Spamming your customers with generic messages
One of the main reasons SMS marketing has gotten a bad rap in the past is because of spammy, bulks SMS blasts. You know exactly which ones I'm talking about.
A truly conversational SMS marketing strategy cuts through the clutter in order to deliver value via text message. Sure, a generic promotional SMS blast might be enough to entice some of your customers to shop. But what about a personalized offer or recommendation based on their previous purchase history? Imagine how much incremental revenue could be generated by leveraging conversational SMS to provide each and every customer with personalized, white glove service.
Give your customers additional value through text message that they can't get through any of your other channels. Value can take a variety of forms, including personalized messaging, special VIP promotions, customized recommendations, and more. Voxie leverages dynamic fields and Smart AI to both personalize and automate each customer conversation.
3. Not capturing data from each SMS conversation
Former SVP of Retail at Apple, Angela Ahrendts said it best: "Consumer data will be the biggest differentiator in the next two to three years. Whoever unlocks the reams of data and uses it strategically will win." If you're not already leveraging your SMS marketing channel to collect and store customer insights from each conversation, you're missing out on big-time opportunity.
Consumer data will be the biggest differentiator in the next two to three years. Whoever unlocks the reams of data and uses it strategically will win.

Angela Ahrendts, former SVP of Retail at Apple
Here's where truly two-way, conversational SMS marketing becomes crucial when it comes to capturing customer data (versus one-way bulk SMS promotional blasts). Conversational SMS marketing gives your customers the opportunity to share their preferences, feedback, and thousands of other valuable data points directly with your brand via text. If you're not currently taking advantage of these insights to further segment and personalize your messaging strategy, you're leaving major revenue on the table.
It's not too late to perfect your SMS strategy
Whether you're new to text message marketing or hoping to bounce back from any of these conversational SMS faux pas, don't worry—there's always room for optimization. When executed strategically, conversational SMS marketing should benefit both your customers, through personalized value offerings—and your bottom line.
Voxie is the conversational SMS marketing tool for businesses looking for deeper personalization and customer segmentation solutions that drive ROI. Schedule a demo to see how Voxie can drive repeatable revenue for your business.