Struggling to find people to staff your store, restaurant, or call center? You're not alone. It's a turbulent time in the American economy, with what seems to be fewer and fewer workers to fill an ever-growing number of jobs.
Marketing, sales, and customer service are just some of the departments experiencing significant issues because of the current labor climate. These departments rely on a constant influx of smart, skilled people to keep projects moving and to drive overall growth and success. Without qualified workers, your teams can't deliver on their critical goals.
This labor shortage has driven the development of new technologies and tools that either increase worker productivity or require less direct involvement from people to complete a specific task. Automated conversational texting is one of them and Voxie is pioneering this unique approach.
A closer look at the labor shortage
Even though consumer demand is coming back strong, businesses have not been able to keep up with this growing demand due to supply chain issues and labor shortages. Market incentives that encourage workers who were laid off or who quit in the early stages of the pandemic to return to work have not been successful. While there has been research on the causes — generous pandemic unemployment insurance benefits, child care responsibilities, COVID fears, dissatisfaction with work — the fact remains, competition for good candidates is extremely high.
Two solutions that can have a very positive impact on the problems created by the difficult labor environment include: increasing the efficiency and productivity of the people you do have and changing the way you communicate with the people you do want to hire. Fortunately, Voxie can help with both.
Doing more with less
Finding more people is the simple solution to labor shortages, but isn't always easy to achieve. This forces companies to try and achieve more with less, making available labor hours one of your biggest constraints. With Voxie, different aspects of communicating with your audience can be automated in order to help employees get more done each day. For example:
Conversational flows can be created to easily introduce customers to texting as a means of communicating with your company.
Voxie's conversational engine can respond to up to 95% of customers' questions — store hours, special offers, directions to your restaurant or store, table reservations — without needing an agent.
Conversations that can't be managed automatically can be easily organized and routed to an agent.
Ongoing automation of drip conversations that keep the customer engaged with highly relevant personalized offers over a period of time.
Busy phone lines? Voxie's latest feature 'Shift-To-Text™' redirects callers from busy phone lines to online ordering by sending them a text message with the relevant link. When customers call into a busy phone line, a recorded message asks them to press a '1' if they're trying to place an order. When they do, Voxie sends them a text message with an online ordering link. As a result, employees spend less time on the phone answering the same questions, and more time helping you fulfill peak time orders.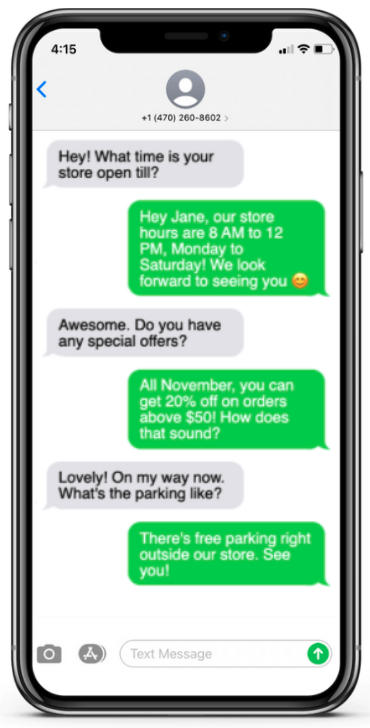 Voxie for hiring
The second solution is changing the way you hire. By making the process easier for both you and your candidates, you spend less time managing the hiring process and more time talking to candidates and making offers.
QR codes make applying easy and qualifying easierVoxie leverages its innovative QR code scanning feature to make applying a two-tap process. When a QR code is scanned, the messaging app opens and the body populates with text expressing intent. All the candidate needs to do is hit send and the system puts them in a flow that collects answers to pre-defined qualifying questions. Anytime a candidate meets your requirements, you get a notification with a summary of all their details. This eliminates the need for one of your employees to manually go through each application to determine the right fit. You can place the QR codes at your store front, on local job boards, or anywhere else.
Automated employee referralsVoxie also lets you find more employees through a reliable and tested source — referrals. As an operator, you know that employee referrals are the best way to get new employees. Not only are referred employees more likely to have the requisite skills, they're also more likely to stick around. Voxie allows your existing employees to refer people they know, and makes tracking referrals effortless.
Setting the standard for customer experience
While employee shortage has driven the need to adopt texting, doing so has given companies the opportunity to set a higher standard for customer service, sales, and marketing. Interactions are more meaningful when they happen at the behest of customers, and there are fewer barriers to resolution with conversational automations leading these interactions.
Whether the conversation happens over a couple of short texts or over the course of a few days, what matters is that throughout, customers' expectations are met. Before conversational texting, that meant having a person at the other end of the phone, driving interactions. This practice—as the current labor climate is proving—is unsustainable. The gear ratio is unsustainable, and conversational texting can help rebalance it by alleviating many of the simpler conversations before an agent gets involved. The result? Doing more with less staff.
Automated text conversations for operational ease
While automated conversational texting is effective in the short term, it also presents an excellent opportunity to refine business processes and plug leakages in labor hours. Beyond automating recurring conversations and diverting busy phone lines, the use cases for texting are endless — and Voxie is the only true turnkey solution provider with the ability to evolve new use cases for texting for your business problems.
Are you struggling with running your business amidst the labor shortage? Voxie can help in more ways than one. Book a conversation with a conversational texting expert today to see what texting can do for your business – schedule a demo.