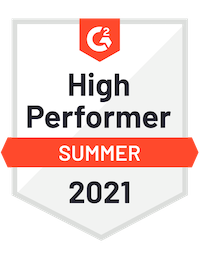 We are excited to announce that G2, the leading business software peer-to-peer review site, has named Voxie a High Performer on the G2 Summer 2021 SMS Marketing Grid. With a leading 99% "likelihood to recommend" Voxie beat out established organizations like Attentive, Podium, PostScript, and Zipwhip in our ability to garner reviewers' recommendations. In addition to this strong overall showing in a competitive field we also picked up a perfect 10.0 score in quality of support, 9.9 in ease of use, and 9.8 in ease of setup. Voxie also scored a perfect 10 in ease of doing business with, something for which we are particularly proud.
The G2 2021 Summer SMS Marketing Report, based on more than 3,500 customer reviews, highlighted Voxie's net promoter score (NPS) of 100, 30% higher than G2's average NPS in the report. Beyond being named a top performer in SMS marketing, we also received "Users Love Us" recognition from G2.
Receiving G2's acknowledgement for our performance in SMS marketing highlights how Voxie and its conversational AI text marketing platform is the leader in solving the challenges and needs of modern retailers today. There can be no higher honor for us at Voxie than to be rated so highly by our customers as we strive to deliver the best product in the text messaging market backed by white glove service that is unsurpassed.