Whether they were ready for it or not, brands were forced to adapt to both changing customer behaviors and macro-level uncertainty throughout this year's global pandemic. The tagline for 2020 has simply been: Either innovate or fail. While several brands across varying industries have struggled to adapt quickly enough, their forward-thinking, more nimble counterparts have actually found ways to make an unprecedented event–like COVID-19–work in their favor.
Remote Work
Not only has the pandemic forced brands to adapt to their customers' needs, but also to the needs of their employees as the rate of remote workers has increased from 30% pre-pandemic to nearly 100% of U.S. workers today. Since companies were forced to shift their systems from on-site to in-home, digital collaboration has vastly improved along with the tools that facilitate it. Many companies even moved their entire customer service workforces to the work-from-home model, in addition to incorporating chatbots and virtual self-serve capabilities to better serve customer demand while relieving bandwidth for customer service reps. Without a catalyst like COVID-19, internal digital collaboration and automated customer service may not have been as high of a priority for company executives.
Digital Content
Another direct result of people spending more time at home has been the exponential increase in digital content consumption. Netflix saw 16 million new signups from January to March 2020. Now, 51% of internet users around the world are watching more shows on streaming devices than ever before. Beyond streaming services, Americans also have more time to browse the internet and consume more written content throughout the day. Comcast stated that they are seeing more sustained internet usage and peaks throughout the day, rather than usage only spiking at the end of the workday like it did pre-COVID. This presents a huge opportunity for brands and businesses to prioritize content production in order to meet their customers where they're searching. Successful retailers have boosted investments in online acquisition, like paid search, and prioritized digital media over offline advertising in order to offset diminished foot traffic in physical stores. Only the brands that have proactively shifted their strategies to adapt to this "new normal" have positioned themselves for success in both the short and long term.
Omnichannel Presence
As consumer behavior shifted from offline to online amidst domestic shelter-in-place orders, shoppers increasingly looked for ways to purchase what they needed without having to leave their homes. Additionally, consumers' increase in leisure time opened them up to interacting with brands across channels that they may have been reluctant to do so prior to the crisis. Businesses that learned to integrate their physical and digital experiences thrived despite the volatile macro environment. For example, grocery delivery services like Instacart exploded in popularity as consumers looked for ways to choose groceries, pay digitally, and leave feedback on a desktop or mobile device without having to enter the store themselves. While the coronavirus crisis may have led to the initial surge in demand for services like these, consumer behavior is likely permanently impacted.
Buff City Soap: A Case Study
Other omnichannel retail brands like Buff City Soap grew their ROI by nearly 24% in one month since launching a new channel to connect with their customers during the pandemic: personalized text messaging. Partnering with SMS marketing platform, Voxie, Buff City Soap deployed several two-way conversational SMS campaigns in order to collect valuable behavioral data from their customers and communicate with them through a channel they were already spending a lot of time. Since it was added to their marketing mix, SMS marketing has become one of Buff City Soap's most successful channels. Buff City Soap's CEO, Justin Delaney, said, "Voxie's personalized text messaging service has helped us increase revenue across each of our store locations. We've seen upwards of 23x ROI at one of our locations in a single month, making Voxie one of our top marketing channels. Both our new and existing customers love the experience!" Despite the global crisis, Delaney plans on opening thirty more stores across the country before the end of 2020.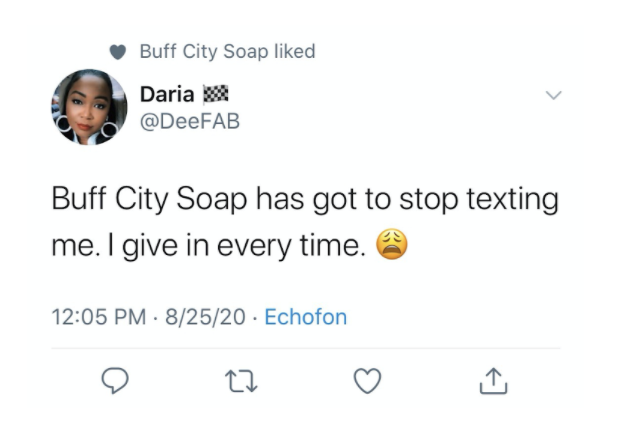 Interested in learning more about how retailers like Buff City Soap significantly improved their ROI during COVID-19 through SMS marketing? Learn more.